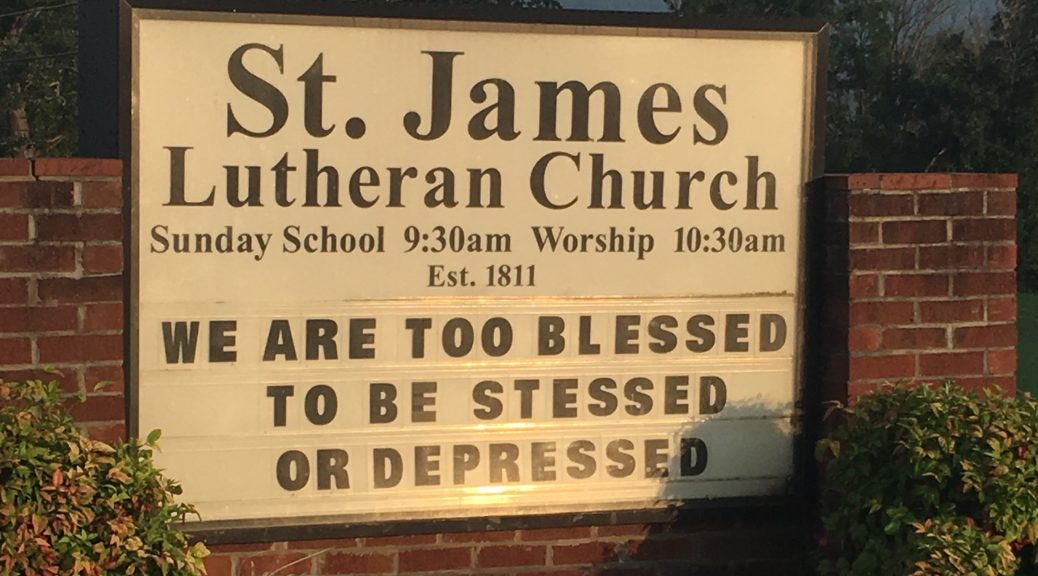 When "Christian Nice" Gets Mean about Emotions
When "Christian Nice" Gets Mean about Emotions
NOTE 8/28/21: I'm reposting this article, to emphasize its content (which is still disturbingly relevant), but note that this was pre-pandemic. I'm not presenting at the Wild Goose Festival in Fall 2021.
If you haven't been keeping up with my schedule, by the time you read this, I'll be largely done with speaking about "Stress, Trauma, and Conflict Communication" at the Wild Goose Festival, which is a progressive Christian social justice-themed festival in the Bible Belt in the Southern US. As I've described before, I grew up in my own mini-Bible belts in the Midwest. But the Southern US Bible Belt is its own special cultural flavor of Bible Belt. This piece extends what I've been saying before about the toxic sides of Christian Nice by looking at one example of one feature of Nice and what it gets right as well as the damaging effects the form and impact of the statement may have.  
The Inciting Incident that Birthed Forth this Article
So yes, I made it to the South. I had almost arrived at my AirBnb for the Wild Goose Festival when I saw a church sign that made me absolutely cringe-laugh: "Too blessed to be stressed or depressed."
Well, technically there was a typo in there, but that can happen to anyone, so I'm not focusing on that at the moment. Instead, I want to focus on the intense cringe that came to me from the message itself.
What the Sign Came Close to Getting Right
See, as I've explained, I actually, teach and write about stress and trauma (and conflict communication–and when I saw this sign, ironically was on my way to speak about it).
And I hate to admit it, but I feel in the interests of honesty that it's important to note before I dive into the down sides that the church actually got a few things right here:
Gratitude-type exercises do actually help the brain. Specifically, they help it rewire itself to open up healthier pathways. This is especially key when we've been through experiences like burnout or trauma, both of which tend to train us to look for the negative more than the positive (which we tend toward anyway).

That is to say that the church actually had a point, however crappily expressed, in gesturing toward the importance of being thankful for what we have. Not as a way to avoid bad emotions, but as a way to keep it possible for us to see the good possibilities in life without breaking down those neural pathways toward hope.

Stress and depression are actually linked, and even beyond the near-rhyming effect found here. That is to say, that scientific research shows that people and animals who experience too much toxic stress tend to feel less pleasure in the pleasure centers of their brains—which is why both gratitude-type exercises and conscious efforts to remind oneself and each other of the meaningfulness of what we do, regardless of perceived results, is so important.

And as I said, gratitude can be a helpful scientifically proven antidote to unhealthy stress and depression at times.
Sadly, That's Not Actually What Was Being Said
That said, those points weren't really what the sign was saying, in my view. Which is to say, the WAY this message was presented was horrible, which is what made me cringe-laugh. Way beyond the typo, as I said, the message is CLASSIC toxic Christian nice.
When I read this sign, I didn't hear "Wow, did you know research says you should try to maintain your mental and physical health through recognizing that not everything sucks all the time, and try to remember why you do it."
Sigh—I wish that's what had come across. Or even "I realize you have a lot of negative emotions right now, and I have a lot too under the surface, so let's try not to take them out on each other."
What the Sign Actually Seemed to Be Saying to Those Asking for Empathy
No, this is what I imagined coming across to a random reader of it who had just been through a stressful time. Imagine the following in a drill sergeant's voice, if you will:
"YOU!!! THAT'S RIGHT! YOU! THE ONE DRIVING BY! THAT'S RIGHT: YOU!!!"
"LISTEN! I MEAN, I KNOW YOU HAVE STRESS RESPONSES. WE ALL DO. I KNOW YOU HAVE BEEN THROUGH A LOT LATELY, AND ARE HAVING TROUBLE FINDING THE JOY. MIND YOU, I'M WELL AWARE THAT THESE FEELINGS COME FROM A NATURAL NEUROBIOLOGICAL TENDENCY BASED ON HOW YOUR BODY AND BRAIN PROCESS FELT THREATS.

BUT I DON'T CARE ABOUT THAT, HEAR ME? I COULD NOT (STRING OF UNPRINTABLE EXPLETIVES) CARE ABOUT HOW YOU FEEL, OR WHAT HAPPENED THAT MADE YOU FEEL SO DOWN AND WEARY. SCREW THAT SO HARD.

I HAVE NO EMPATHY OR SUPPORT TO OFFER YOU, FRIEND, BECAUSE I FEEL THREATENED BY YOUR NEGATIVE EMOTIONS. I BELIEVE YOU SHOULD STUFF THEM DOWN AND KEEP UP A SMILE, BECAUSE IF YOU DON'T, THERE WILL BE RELATIONAL AND POSSIBLY ETERNAL CONSEQUENCES FOR YOU.
YOU KNOW THAT VERSE ABOUT JESUS CRYING? WELL, THERE'S A REASON THAT IT'S THE SHORTEST VERSE IN THE BIBLE.
OH, LAMENTATIONS? WELL, THAT NEVER POPPED UP IN MY VERSE-A-DAY CALENDAR.
OH, THOSE PSALMS OF LAMENT? WELL (MORE EXPLETIVES). The person trying to read the sign unwittingly ducks at this point.
ANYWAY, HERE'S THE POINT. YOU HAVE WAYYYYY TOO MUCH BLESSING TO ACTUALLY EVER FEEL THAT WAY, YOU JERK. HOW DARE YOU HAVE STRESS OR TRAUMA OR DEPRESSION?
OH! YOU WANT TO BRING UP THAT VERSE ABOUT GOD TAKING CARE OF THE BROKENHEARTED? WELL (THE SIGN ACTUALLY PICKS ITSELF UP AND THROWS ITSELF AT THE PERSON AT THIS STAGE. THE WHOLE THING DEVOLVES INTO A BRAWL.)
Not the Best Messaging, You Could Say, if You Want People to Feel Cared For
So…yeah. As you might have guessed, I think that the root parts of some of the scientific theory and the rudimentary ideas behind the sign here were honestly on track. It's just that the actual execution of the message?
Ugh. Just ugh.
And Here's the Thing–the Most Important Point
Remember what I said at the beginning about stress wearing down the hopeful and happy pathways in our brain?
That means that pretty much every single person reading it who is going through genuine stress-induced burnout or depression is wayyyy more likely to read it the negative way than the positive.
Which means that if you want to reach THAT audience as intended, and you're making a church sign (or just trying to support someone in general going through a bad time), you likely need to work on more empathetic ways of packaging the message.
When Christian Nice Devolves into and Merges with "Christian Mean"
This, if you were wondering, is what happens when "Christian Nice" can come off as so passive aggressively downright mean that some concepts are actively holding whole swaths of all sorts of things down as though they were a bully stuffing them into a locker.
Telling Us Not to Have Stress Responses Is Counter-Productive
Oh, and if you're wondering, telling someone not to actually have stress responses is not remotely possible and is really unwise. As you should know by now if you've read our Guide to Trolls or a lot of other material on this blog, stress is the body's physiological response to felt threat. (If not, stick around–I'll offer instructions for that at the end of this.)
The Sign Actually Made Me Feel Threatened by It in a Low-Key Way
You know, like the very same kind of response my body emerged with in a cringe-laugh just before I pulled over to snap a picture. See, the mode and delivery of the message on that sign were enough for me to see this message like an ALL CAPS-y drill sergeant, as I outlined above.
The irony is thick that the very sign who is telling me that I'm "TOO BLESSED TO BE STRESSED OR DEPRESSED" was making me feel in a stress response by the way the phrase was structured.
Sure, it wasn't nearly as much stress as is implied by the above long explanation—after all, I grew up among Christian Nice not that different from this.
There *Is* a Stress Response for What the Sign Suggests
I should note quickly that there IS a stress response that correlates to what the sign seems to be asking you to do, and it's a very natural one, and can be helpful in the short term. It's often called dissociation or numbing. It's a process that numbs the bad stuff so the body can process extremely difficult situations.
It's natural, and it can be helpful short term, but when it tends to last too long the body often responds in unhealthy ways, with other symptoms. If you curious how this works, I strongly recommend watching the "Unbreakable Kimmy Schmidt" on Netflix.
In Which I Acknowledge the Way the Sign Was *Meant* to Come Across
Because I grew up in Christian Nice, albeit a different flavor, I know perfectly well what they at the best were very imperfectly trying to say was "buck up, friend! It won't always be this way. Surely you have a lot of good work you are doing that the world will find valuable, and even if not, perhaps there is something you can focus on and pay attention to that can help you think through the meaning of your life and reground it."
And I also knew that here, in the Bible belt, there would be many people who would read it as seemingly intended, and feel better.
Still an Unhealthy Message for Too Many
But that doesn't mean it's everyone who reads it in the ALL CAPS form is in any way off base. Because this message in form and function is honestly pretty crappy.
The way it's said implies that emotions=bad. That dissent=bad. That mental health issues=completely your fault. That stress response you're feeling right now? Well, if you just focused on that blessing, well, that would totally not be there. Trapped in the depths of depression like that guy who wrote Ecclesiastes? Well, you must not belong here.
Sigh. That's great if you want people to feel hurt and excluded and uncared for. But if you're genuinely trying to love your neighbor who reads it in the ALL CAPS version? It would be better to shift the language.
A Healthier Way
In reality, research has shown that if we try to numb negative emotions, eventually our feelings of happiness and joy numb too. If we followed this sign's advice, that would mean that we would get to a place where we might BE blessed, but likely wouldn't be able to *feel* blessed. And I know, I know, feeling isn't everything. But in reality, research has shown that numbed people are way more likely to dehumanize and attack others or themselves. It's overall not a great situation.
In short, it's not a great message. We avoid emotion management at our peril. It's also intensely ironic how aggressive this kind of messaging feels to one attuned to the nuances of these kinds of Nice cultures. That's because it itself seems to be coming out of a very strong denial/dissociative stress impulse. Sigh.
Anyway, that was the church sign I saw near my AirBnB on Wednesday. I hope it's clear to you by now why it bothered me, and why many readings of the sign are really inaccurate and literally unhealthy for people, even while there are some good points behind the terrible wording.
I hope after reading this those who have been hurt by such messaging can recognize better after reading this WHY this kind of messaging gets offered, and still fight the negative parts while claiming the healthier versions of this sentiment.
And if you've said this before? Try to offer the healthier version, friend! If you're at your emotional limit yourself, it's okay to ask others to not put their emotions on you—that doesn't mean you should be asking them to push them down long term, though. That's simply not healthy for any of us.
Want to Learn More about Stress Responses and Conflict?
But if you'd like to know more about stress responses and how they are absolutely unavoidable in conflict (no matter how BLESSED you are ;)), I strongly recommend signing up for our email newsletter, either in the top bar or when you comment on this piece, because I get more into how stress works and how it affects conflict in the free "Assertive Spirituality Guide to Online Trolls" you get once you've confirmed your email address. (You can unsubscribe at any time, but we hope you'll stick around.
A Final Encouragement
Go team #AssertiveSpirituality! May we all realize that stuffing down emotions—and telling others to do the same—doesn't actually, on its own or especially in this form, make things better in the world. Instead, may we make space in our spirituality, whether in or out of the church, for there to be space for people to manage their real emotions. We can do this thing!
Please follow and like us: