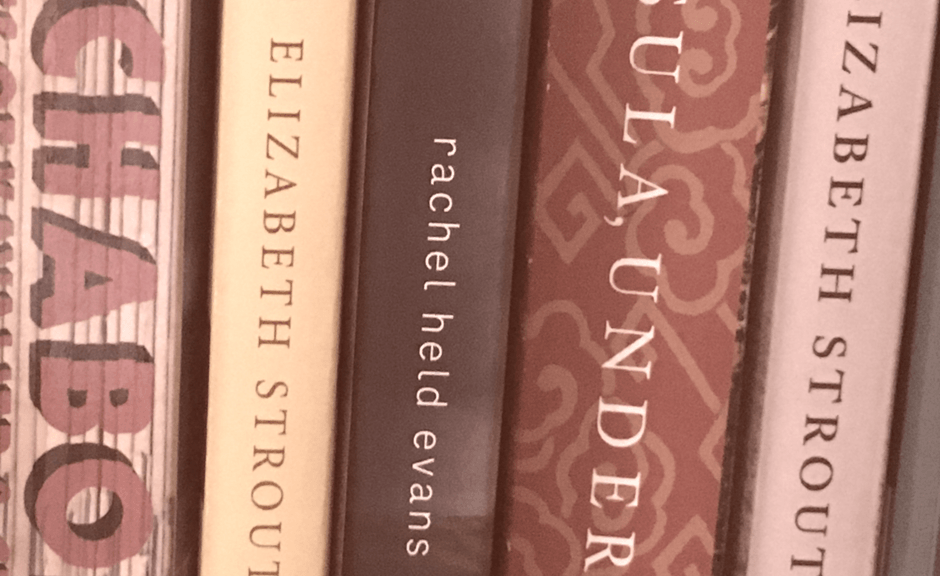 Rachel Held Evans, In Memoriam: A Voice of #AssertiveSpirituality
Rachel Held Evans, In Memoriam: A Voice of #AssertiveSpirituality
This article was going to be an anniversary post, summing up my thoughts on how the definition of Assertive Spirituality has evolved in the year since I started this site, to my knowledge coining the term. But as soon as I heard the news this morning that progressive Christian author Rachel Held Evans had died at age 37 of complications from an allergic reaction to antibiotics, I knew the post I wrote today would have to shift.
I'll write the anniversary post, soon with my more general thoughts on the State of Assertive Spirituality as I've been seeing it grow and change in light of everything that's happened over the last year.
But today, I want to honor the assertiveness of Rachel Held Evans, an author who meant so much to so many. In, fact, in so many ways her life work defined one way of living Assertive Spirituality. (So my plans really haven't shifted THAT much, really.)
Honoring the #AssertiveSpirituality in Her
I grieve and celebrate Rachel Held Evans because her life in so many ways exemplified what I think of as Assertive Spirituality. She was not a perfect example (who is?), but she was what shame and vulnerability researcher Brene Brown aptly quoted Teddy Roosevelt as saying "in the arena." RHE showed grace and courage in spades in the large majority of cases.
RHE and Speaking Truth to Power
Even the mean things being said about her as a "heretic" on the day of her death in some more conservative online venues indirectly testify to how far she was out there in the arena, speaking truth to the powers-that-be.
They also illustrate an important point about being assertive in this world–that not everyone will respond positively. Assertiveness isn't just about "making nice"–as I've discussed before, that's cordial hypocrisy rather than assertiveness.
Assertiveness, you see, is often met with aggressiveness by those who see it as a challenge to their power structures or beliefs. It often evokes strong fight responses from people. But that doesn't mean it actually is aggressiveness itself.
So yes, as I'll explain, she was very frequently quick to assertively call out the kind of religio-political ethnocentrisms my last article here drew attention to, and she is still catching a lot of flack for it. I honor her so much for that.
Inspiring a Community
On the other hand, the fact that her death has inspired such an #AssertiveSpirituality wave of support and storytelling and holding space for others across the social media spaces I am a part of witnesses to her positive impact on many many lives.
(Just check out #BecauseOfRHE, especially on Twitter, which is a thousand times more communal and lovely place just now because of the community forming around this grief.)
Joining the Collective Grief
Please consider this reflection a small part of that conversation. And please excuse any messiness of thought here. Grief is not easy or linear, and I've had a thousand other thoughts and emotions since I heard the news. I'll try to keep this a reasonable length, and as smooth as possible.
Part 1: RHE as #AssertiveSpirituality Inspiration
Rachel Held Evans was a few years younger than I am. And yet she entered the blogging and writing world earlier, with a bold stubborn insistence that there ought to be room for opposing opinions in and out of the Evangelical world, and in and out of Christianity. She stood up persistently for radical inclusion.
Finding Her Blog and Facebook Page
I honestly can't remember exactly when I first came across her work—I think maybe it was her blog and Facebook page. My political ideas had started to shift several years away from those more conservative beliefs I've described earlier.
And while I hadn't left membership in the church of my youth at this point, I had already begun the ecumenical journeys that began broadening my outlook long before I "skipped the fence" to progressive Christianity.
As I said, she was a few years younger than me, but long before I was doing it here, Rachel Held Evans was working to push back against toxic, hurtful ideas she had begun to disagree with in order to make more space for multiple perspectives.
She did so—again, not perfectly, as she has acknowledged many times—but often with grace, excellence, and spirit. She was engaging with trolls on her site long before I had the courage to attract trolls by being willing to get into controversial subjects publicly.
I honor that today, and I hold with me her example of grit and persistence in the face of plain old spiritual aggression and authoritarianism. She assertively spoke truth to power, and dealt gracefully with the blow back.
Hearing Her Words Read by Monks
I still haven't read RHE's first book, Evolving in Monkeytown/Faith Unravelled all the way through, but one of my all-time favorite quirky memories was getting to this Episcopalian Benedictine monastery I've been visiting on and off for most of my adult life and hearing that book being read aloud at mealtimes, and hearing the monks quietly crack up at the funny parts.
I honor that, and treasure that memory.
Helping Christians Honor Jewish Interpretations
In her book The Year of Biblical Womanhood (which I have since loaned to a friend and still need to replace), she exhibited so much honest questioning, so much snarkiness mixed with sincerity and wisdom and openness to new views.
I honor that today. And I especially take with me her liturgizing of grief for the domestic violence in the Bible and her introductions to liberating Jewish views of Proverbs 31.
Making Room for Struggle and Questioning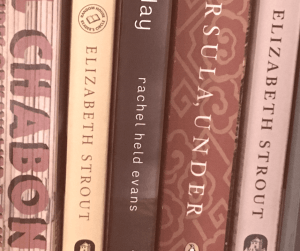 In her book Searching for Sunday, RHE expanded my views of the seven traditional sacraments by reflecting on how her own story of struggle with the church exemplified them, which was an incredibly beautiful, quietly radical act.
I honor that today, and have been listening to her sister-in-law Amanda Opelt's music as part of my grieving process (I was introduced to Amanda's music through her Seven Songs, album, which was a companion piece to this book).
And while I wasn't in a space of discomfort with church when I read Searching for Sunday, it helped expand my empathy for those who were. And much later, when I did finally enter that space, found she had made space for me, too. I'm so thankful.
Bringing Together a Community of Evolving Faith
Rachel Held Evans and Sarah Bessey co-hosted the Evolving Faith conference that debuted this past fall, in October 2018. (I took a leap of faith to sponsor that conference with this little bootstrap project of mine.) They were nothing but gracious to me during that time.
And they provided a gathering that offered a community to so many who had felt isolated through struggling with things that both RHE and Sarah Bessey had struggled with.
I honor all of that today. And I am thankful to have had a part in that event, and to have finally had a chance to meet Rachel in person last fall.
Part 2: RHE as Wisdom Teacher, Not Guru
As I've said, RHE was not perfect, but she was overall an excellent example of what Teresa B. Pasquale distinguishes as a healthy "wisdom teacher" over and against a "false guru." In her book Sacred Wounds: A Path to Healing from Spiritual Trauma, Pasquale defines the wisdom teacher as having the following characteristics (p. 98-101):
Humility over Ego: making sure there are checks and balances on them
Community over Themselves: bringing together a community around them rather than insisting on keeping the power for themselves
Embracing the Tension: between their existing knowledge and its limits
Comfortable with the Unknown
They Are Lifelong Students
Promote Questions and Don't Have All the Answers
Low- to No-Cost Teachings
Accepting of Many Ways to Transformation and Spirituality
Promote Radical Inclusion
Model Unconditional Love and Forgiveness
Acknowledge Their Own Flawed Humanity
Value Independence and Uniqueness Along with Healthy Interdependence
Authenticity
So yes, you should be able to deduce from what I've already said about her that I believe she's exemplified many of these characteristics for me. RHE may not have been everyone's wisdom teacher, but I think she thought that was okay. I would argue that is more proof that while she wasn't a perfect wisdom teacher, she absolutely was one.
Holding the Tensions
One more note before I close: I honor and hold space for those progressive folks who find it difficult to honor her because of what happened in the case in which she was seen to enable the abuse of Tony Jones (look it up if you'd like—everyone needs to make their own decisions about such things).
I honestly don't know what to do with that case—I hold it in tension, and I hope those of you who feel more strongly than I do about that won't find it too rude for me to hold it off to one side for the remainder of this article.
I find that case troubling, but for me it does not eclipse the rest of her life and legacy.
Let's Grieve Together
I could go on and on, but I think that's enough to show a glimpse of why I'm grieving and feeling all the feels today. If you're grieving as well, I would love to hear your stories in the comments and over at the FB page. Please know that you're not alone. And if you happened not to appreciate Rachel's life and work, please mourn with those who mourn and be sensitive in your commenting!
A Charge
Many cheers to Rachel Held Evans, an Eschat Chayil (woman of valor). May you rest in peace. And even while some of us may need to pause to grieve before doing so, may we all take up the challenge she laid down to continue to open up spaces for #AssertiveSpirituality through speaking truth to those who seek to close them.
No matter how you felt about RHE, let's do what we can to make space for mourning her death these days.
Let's Scream Together, Shall We?
As part of my contribution to making space for assertive grief around this and other subjects, I've decided to set up another "Collective Scream about All the Toxic Crap" FB event for this week (Wednesday, May 8 at 8 p.m. Central time). Please find out more and RSVP here, remembering that you can participate from wherever you are. Feel free to cluster others around you to join in the scream!
As with previous such events we've hosted, you need not only scream about RHE's death. You may scream about anything toxic, really. But I'm sure many will be screaming in her honor.
Again, check out the link for full instructions and timing–but if you missed it, feel free to time-shift the scream and add in your comments after the fact.
__
Like what we have to offer and want help speaking up and dealing with the conflicts that often accompany that? If you sign up for our weekly email newsletter in the top bar (or when you comment on this or any other article) and confirm your email address, we'll send you a link to our "Assertive Spirituality Guide to Online Trolls" in the final welcome email. You can unsubscribe at any time, but we hope you'll stick around.
Please follow and like us: